Third Party Supplier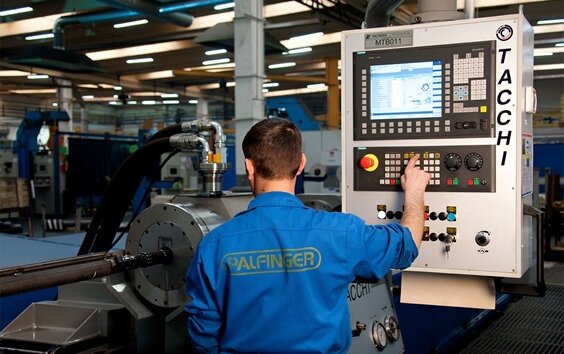 PALFINGER is your reliable partner in the following areas:
Steel construction
Cylinder production
Chrome and nickel chrome plating
Surface Technology, for example KTL or powder coating
Assembly and pre-assembly of subsystems or assemblies
PALFINGER's key skills are centred primarily in the production of safety-relevant welded structures (made above all from high-strength fine-grain structural steels) and hydraulic cylinders, in durable surface coating technologies (KTL) and in the assembly of component groups.
The cost advantages are obvious. In addition to our Western European locations, we are able to utilise the favourable cost structures of our production locations in Eastern Europe. At the same time, as a premium supplier, we place our focus on the quality of our components and products across all our segments.
We have the technical conditions and qualified employees to implement individual production and machining tasks quickly and cost-effectively and thus are able to deliver you high quality third party supply. Specialist expertise gathered over decades, quality and compliance with all the legal requirements speak in our favour. Our certified and process-oriented quality management approach in accordance with ISO 9001 ensures that quality is not only controlled but also produced.

As the top priority of ISO 9001, our sites are a guarantee for maximum customer-orientation and the continuous improvement of our processes and products. Certification by German Lloyd and the production of acceptance-compliant parts (to DNV, LRS, BV, RHINA) emphasise our process skills even for special requirements such as those arising in the offshore sector.

We are a flexible and reliable partner due to innovative logistical processes. Following the guiding principle of "Reserving resources - producing flexibly", we work to a concept of order-related production. Our facilities have flexible resources so that we can map daily fluctuations of +/- 20% in incoming orders.

Benefit from the capabilities of a global player and the expertise of a technology leader!