Cost effectiveness means for PALFINGER to generate profit and achieve sustainable profitable growth. Topics such as the Code of Conduct, corruption prevention, the integrity line and fair taxation are in focus. The integrity of PALFINGER is based on the commitment to comply with legal and ethical standards.
MATERIAL SUSTAINABILITY TOPIC
COMPLIANCE
PALFINGER acts ethically correct: Legal requirements are observed and ethical principles are taken into account through voluntary commitments (e.g. Group guidelines, Code of Conduct). Against this background, compliance is a high priority at PALFINGER at all levels of the Group. In order to prevent possible rule violations in advance, PALFINGER's Compliance Programme focuses on prevention. Key principles of conduct are laid down in the PALFINGER Code of Conduct, a group-wide guideline for all employees.
In addition, the establishement of a Group policy system and the implementation of regular awareness training promotes compliance throughout the PALFINGER Group. Special training courses (e.g. on capital market compliance) are held for employees from sensitive areas according to their specialist area. The Integrity Line reporting system helps to detect compliance violations. Compliance topics are also taken into account in the audit plan. In 2018, as in previous years, PALFINGER was not aware of any significant cases of compliance violations.
CODE OF CONDUCT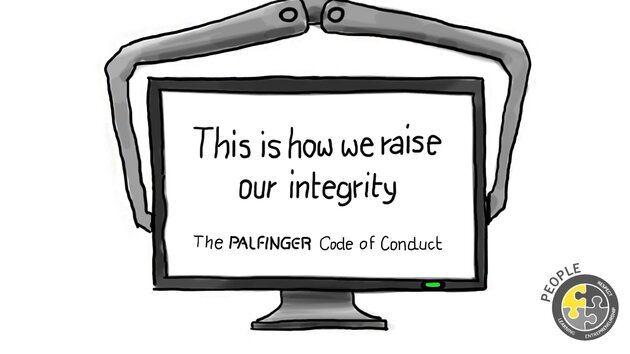 As a global company, PALFINGER wants to ensure that the behaviour is guided by the same ethics in all markets and business areas – both internally and externally. For this reason, principles on human rights, labour standards, environmental protection and the fight against corruption were summarized in the Code years ago.
Since 2010, this applies not only to PALFINGER's employees, but also to business partners, suppliers and dealers. At PALFINGER the Code of Conduct is as an opportunity to actively enhance its integrity.
INTEGRITY LINE
PALFINGER's culture encourages immediate reporting of any compliance violations that may occur. This can also be done via an Integrity Line, which is accessible on the company website. It can be used anonymously by employees and external persons, such as customers or suppliers. All relevant topics will be followed up.
MATERIAL SUSTAINABILITY TOPIC
Viability of business models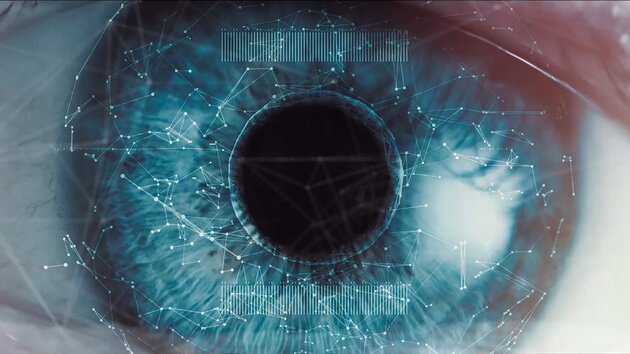 PALFINGER makes sure that its business model remains viable in the long term and actively pursues trends. PALFINGER makes a contribution to society. The three strategic pillars – innovation, internationalization and flexibility – have facilitated the global, profitable growth of the PALFINGER Group in previous years and will be consistently pursued in the future as well. To allow for a prioritization of the challenges and opportunities of digital transformation, this time-tested strategy has been supplemented by a fourth pillar: PALFINGER 21st stands for new core competences, new approaches, new products, services and business models in the digital age.
PALFINGER's employees and the shared values of entrepreneurship, respect and learning are central elements in the implementation of this vision. PALFINGER will put its customers at the heart of all endeavours, even more so than in the past. Together with them, PALFINGER will continue to identify new requirements and develop efficient solutions.
Together we are shaping the future of our customers' lifting solutions.
MATERIAL SUSTAINABILITY TOPIC
Industry 4.0 & Digitalization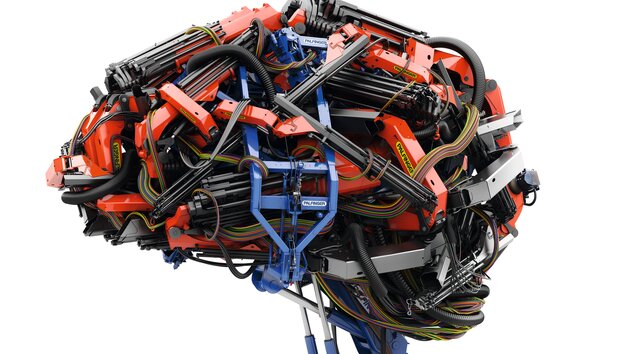 PALFINGER focuses intensively on the digitalization and connectivity of machinery; this also extends to suppliers. Digitalization is seen as a crucial factor for the viability of PALFINGER's business model and thus as an integral part of the corporate strategy. PALFINGER 21st is a new strategic pillar that supports PALFINGER's vision for a digital future. Digitalization will change the presentation, sale and use of PALFINGER's products and services; digital solutions will change the products themselves, and new business models will be created.
PALFINGER 21st Innovation Strategy Analyst
Interview with: Patrick Schornböck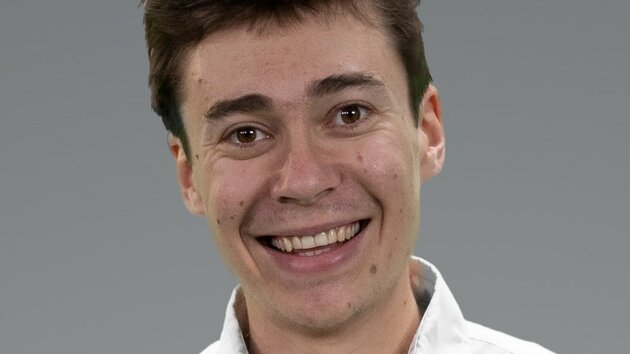 Economic efficiency is reflected in the goal of earning a profit as well as growing in a sustainably profitable manner. Topics such as the Code of Conduct, corruption prevention, fair taxation and digitalization are in the focus.
Patrick Schornböck, PALFINGER 21st Innovation Strategy Analyst, will now answer some questions on the "Fair business" sustainability field.
1. Please tell us a little bit about yourself!
My name is Patrick, I am 25 years old and live in Vienna. My professional and university background is in mechanical engineering as well as in innovation management. When I heard in 2017 that PALFINGER was moving to the Vienna Startup Hub WeXelerate, I felt like I was destined to take on the challenge of supporting the emerging PALFINGER 21st team.
2. What is your daily work routine like?
As an Innovation Strategy Analyst, my job is to think outside the box in order to identify trends and technologies that could impact our business in the near or distant future. To generate this information, I work with trend databases, visit relevant trade shows and exchange with experts and exciting technology companies. This information then serves as a basis for decision-making in order to define innovation fields relevant to PALFINGER.
3. What does sustainability mean to you? And how far has your area come in this respect over the last few years?
The work of the PALFINGER 21st team means the chance to significantly contribute to the sustainability of our offer through creative approaches and the use of new technologies. Beyond emission-free drives, digital solutions can help customers make more efficient use of their PALFINGER equipment – for example through intelligent route and deployment planning. Thus, with digital business models, we can succeed with not producing a resource-intensive product for every euro of revenue, but with achieving emission-free revenues through an innovation service offering. In addition to manufacturing and sales, we can also – in terms of sustainability and customer needs – optimize the product use or extend the product life through predictive maintenance.
4. And what's the outlook for the future? Where do you want to go?
Advancing technologies will fundamentally change the way we store, transport and use energy. The PALFINGER devices of the future will be significantly more efficient and less polluting in their use and consume fewer resources in production. In addition, digital solutions are gaining in importance, so that more tasks can be done in our target markets with fewer physical devices. In order to grow sustainably as a company, PALFINGER will increasingly not only sell products in the future, but also offer holistic solutions – and thus relieving value added due to emissions and resource consumption.
THE PROGRAMME IS UPDATED ANNUALLY
SUSTAINABILITY PROGRAMME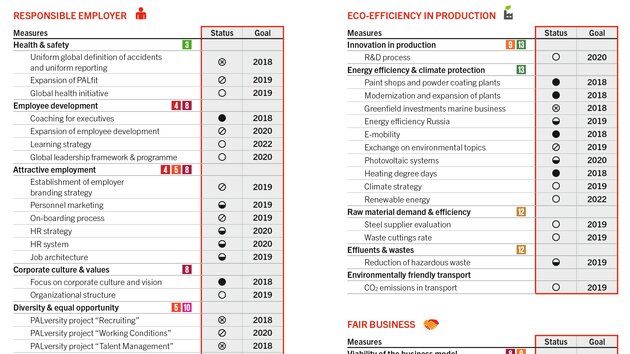 The PALFINGER sustainability programme entails measures in the four sustainability fields. Workshops are held annually and during them the measures programme is updated. This is approved by the Management Board. The purpose of these measures is to contribute to achieving the qualitative and quantitative goals set by PALFINGER and to support the five most relevant SDGs. In the field of Fair Business PALFINGER sets 11 measures.