PALFINGER is a long-standing family business with global operations. Today, 10,824 employees from 82 different nations work at PALFINGER - women and men, young and old. Their motivation, qualifications, health and safety are prerequisites for the Group's success. PALFINGER is committed to the advancement of its corporate culture as well as to open communication.
WE VALUE PEOPLE. PEOPLE CREATE VALUE.
HR STRATEGy 2020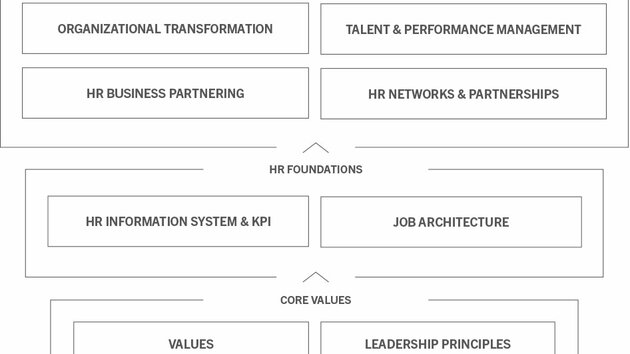 The HR Strategy 2020 reflects the new requirements on staff as well as on the organization and human resources management. As an employer, PALFINGER has defined specific targets in support of future profitable growth. Being an attractive employer is one of those targets, as is an agile, mobile, effective and efficient organization. What ultimately counts is the flexibility to have the right employees with the right skills available when and where they are needed. With its HR Strategy 2020, PALFINGER sets clear goals for employee development. In 2019 the strategy was verified in the wake of the new GLOBAL PALFINGER ORGANIZATION and was further operationalized by plans until 2022.
Material sustainability topic
Corporate culture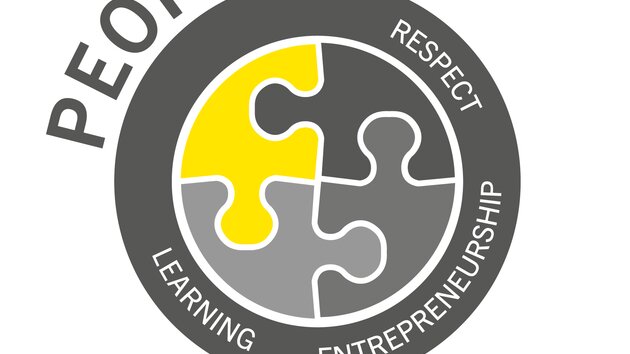 PALFINGER employees, in particular executives, set an example when it comes to embracing PALFINGER's corporate culture and acting on the basis of its values: entrepreneurship, respect and learning. This leads, among other things, to intercultural understanding, a higher level of recognition and appreciation and an active exchange of knowledge.

values
The basis of PALFINGER's success is its staff. "We value people. People create value." That is the motto for PALFINGER's corporate culture. The objective is to have a corporate culture characterized by respect in dealing with diversity and differences. The central values for PALFINGER have been ENTREPRENEURSHIP – RESPECT – LEARNING for many years.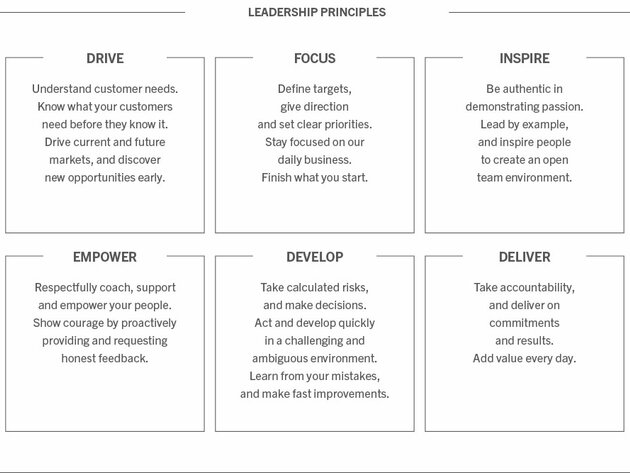 LEADERSHIP PRINCIPLES
In 2019 six Leadership Principles were introduced: DRIVE FOCUS INSPIRE EMPOWER DEVELOP and DELIVER. They are set to create clear expectations both internally and externally while being closely aligned with the corporate values. The Leadership Principles explicitly define what is expected of managers at PALFINGER.
Human rights
PALFINGER is strongly committed to observing human rights. In its Code of Conduct, PALFINGER has defined the material principles that form the basis for the Group's internal and external actions. Rules on the acceptance of gifts, measures to prevent child labour, forced labour and compulsory labour, respect of the freedom of association, and regular supplier audits are just a few examples highlighting PALFINGER's commitment to fairness and equality in the world. For many years, an anonymous Integrity Line for reporting violations has been available to the employees. Every reported incident is investigated.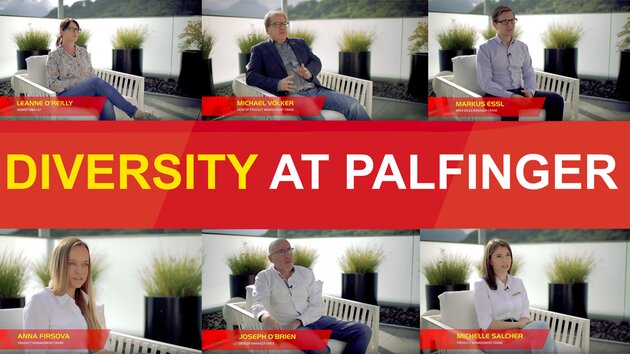 Diversity and equal opportunity
For PALFINGER, diversity means to embrace differences in a flexible way in order to promote international growth and innovative thinking by actively managing cultures, talents, gender and generations based on the core values. PALFINGER regards the further enhancement of its worldwide approach to dealing with diversity as one of the prerequisites for ensuring the efficiency of the corporate strategy. Maintaining global operations not only harbours great potential but also entails huge challenges. In 2017, PALFINGER renewed its diversity strategy and defined targets and initiatives to further increase diversity within the Group by 2022.
MATERIAL SUSTAINABILITY TOPIC
Attractive employer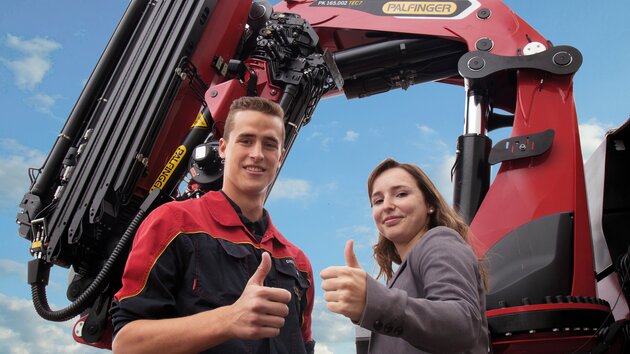 PALFINGER endeavours to offer attractive jobs and interesting, meaningful work content to its existing and potential workforce, based on its core values: entrepreneurship, respect and learning. In addition, factors such as the opportunity to shape one's own working environment, global career and development options, a stable environment and a promising future perspective, to name just a few factors, have been good reasons to work for PALFINGER.
MATERIAL SUSTAINABILITY TOPIC
EMPLOYEE DEVELOPMENT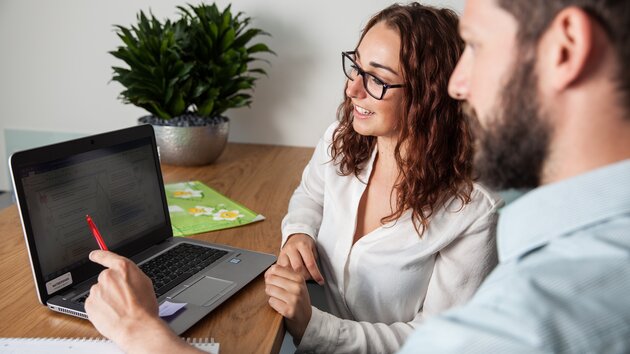 The fact that PALFINGER has defined learning as one of its core values illustrates the importance that PALFINGER attaches to initial and further training worldwide. With respect to training, standards differ in the individual countries in which PALFINGER operates. In all cases, PALFINGER meets at least the respective national standards and in some cases takes measures that exceed such standards by far. The objective is to enhance the qualifications of staff in all countries; to this end, the training measures will be expanded on a regular basis. PALFINGER also trains experts internationally in self-initiated programes.
MATERIAL SUSTAINABILITY TOPIC
Health and safety
PALFINGER protects its employees against accidents and proactively promotes their occupational safety, health care and social security. At PALFINGER,regulatory health protection is ascribed to the Corporate HSE Management while occupational health management is implemented through and supported by PALfit. PALFINGER attaches great importance to a balanced life balance, a healthy balance between work and leisure time.
PALFINGER's accident prevention efforts have proven effective and have resulted in low staff absences due to industrial accidents. PALFINGER ascribes the low staff absences to design of the working environment, its health promoting measures and the PALfit program as well as further local measures. Healthy and well-balanced employees are very important to PALFINGER.
responsible for people development in Bulgaria
Interview with: Nikolinka Koleva
Employees are a material factor of PALFINGER's success. PALFINGER's ultimate goal is to be an attractive employer. Therefore, their motivation, qualifications and, first and foremost, their health and safety are given high priority.
Nikolinka Koleva, the person responsible for people development in Bulgaria, will now answer some questions on the "responsible employer" sustainability field.
1. Please tell us a little bit about yourself!
I started working in the company in 2015. As a psychologist, I have always been interested in human beings – their diversity, the various social roles they perform, and the motivational factors that determine their behavior in performing these roles. Understanding the motivation is a key component in the overall process of hiring, retaining, and developing the right people for the company's purposes. The globalization, the battle for talents, and the lack of sufficiently qualified staff for securing the intense development of Palfinger – Tenevo induced the management to launch a massive investment program in People.
2. What is your daily work routine like?
I would call it "my daily work diversity". In my position, together with the direct department managers, I deal with the development of people through learning. The main focus is on planning, organizing and conducting trainings by assessing the needs, preparing and following individual training plans, and evaluating their effectiveness after completion. Through this process of continuous development, we invest not only in finding but also in retaining the right people on board.
3. What does sustainability mean to you? And how far has your area come in this respect over the last few years?
People are the driving force of change in our company and the best ambassadors of our culture in society. The targeted investments in their development safeguard the sustainable development of the company and make it a desirable employer in the region. Without hesitation Palfinger – Tenevo can be called a "Teaching employer". In 2014, on the initiative of Mr. Andreas Strauch, Managing Director of Palfinger – Tenevo, Bulgaria launched the procedure for introducing the dual education form in Bulgaria. After the change in the relevant laws, we now have 52 students in different specialties who are being trained by working. The logical next step towards sustainable development, and the main focus of 2017, was the building of the Learning Center – the heart of PALFINGER's VALUES in Tenevo. This year our efforts are aimed at promoting another specific form of education for Bulgaria – 3-year-long vocational training of students at the school in the village of Tenevo, combined with practical training at the Training Center – Tenevo.
4. And what's the outlook for the future? What is the right direction?
The future belongs to the generation Z – the students whom we are currently training. The challenge is to prepare for the introduction of this generation of talents, in order to increase its potential, to ease the intergenerational differences, and to create value from the mental diversity in the workplace while maintaining our core values.
THE PROGRAM IS UPDATED ANNUALLY
SUSTAINABILITY PROGRAM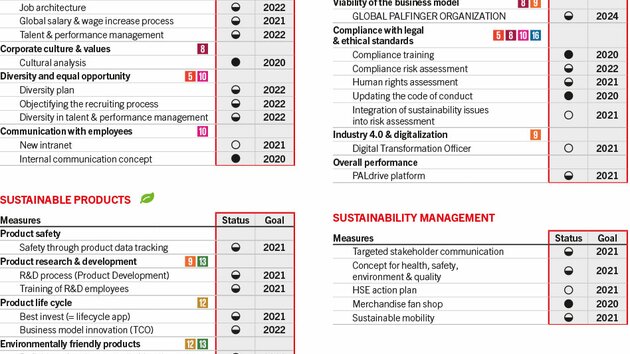 The PALFINGER sustainability program entails measures in the four sustainability fields. Workshops are held annually and during them the measures program is updated. This is approved by the Management Board. The purpose of these measures is to contribute to achieving the qualitative and quantitative goals set by PALFINGER and to support the five most relevant SDGs. In the field of Responsible employer PALFINGER sets 19 measures.