Research, development and innovation also increase the sustainability of PALFINGER's business model. Attention is paid not only to the economic advantages for customers and users; ecological and social aspects are important factors as well. As a result, PALFINGER develops top-quality, reliable products that also guarantee a high level of safety for the user. Continuously lowering service costs while at the same time extending the longevity of its products is one of PALFINGER's highest priorities. Innovation is encouraged primarily in the areas of energy efficiency during product use, alternative drives, reduction of operating supplies, and product lifecycle assessment.
MATERIAL SUSTAINABILITY TOPIC
Product safety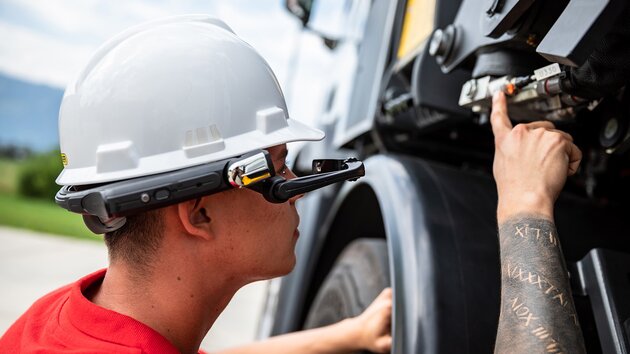 PALFINGER's products are distinguished by utmost safety. Features designed to avoid accidents during the operation of its products go beyond statutory requirements.
Numerous innovations focus on user safety in order to prevent accidents. Safety during product use is improved continuously. PALFINGER's products meet all mandatory safety standards, with PALFINGER orienting itself on European standards, also at its international locations. All of PALFINGER's products are assessed as to their health and safety impacts, and enhancements are made.
All information for the user is documented in the technical product information. Apart from technical features, correct user behaviour is of central importance when it comes to safety. PALFINGER provides information and training in various forms.
MATERIAL SUSTAINABILITY TOPIC
Product research and development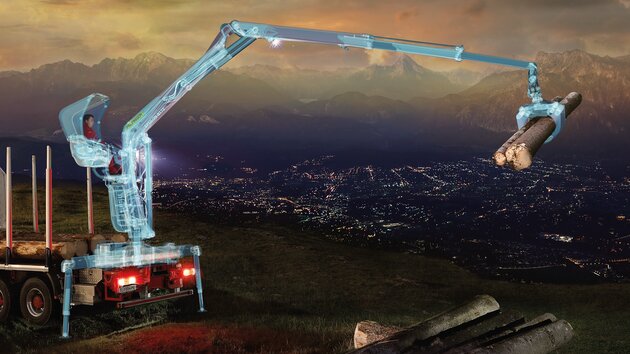 PALFINGER invests in product research and development, and offers the latest technologies. Research and development, as well as innovation and digital solutions, make PALFINGER's products more user-friendly, safe and efficient, but R&D also focuses on processes and the organization itself. Digitalization is also increasingly finding its way into production processes. These new approaches are supported by cooperation projects and open innovation. In order to maintain and expand its leadership in the fields of technology and service, PALFINGER is boosting research and development for products, systems and processes. All research and development activities are performed in a targeted manner with long-term orientation.
The ACE (Autonomous, Connected & Electrified) program was established in 2019 to combine all activities in the area of new mechatronic and digital products and product functions. The aim is to centrally coordinate all development activities in the area of the development of assisted and autonomous product functions, developments related to telematics and the Internet of Things (IoT), as well as the development of electric functions and interfaces, and to manage the individual project dependencies and interfaces.
MATERIAL SUSTAINABILITY TOPIC
Product life cycle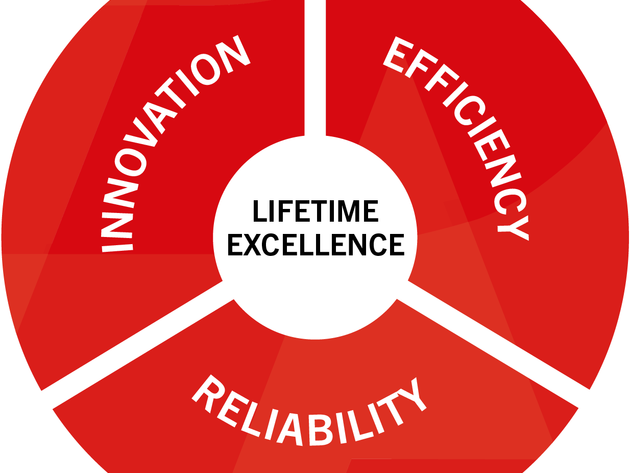 The PALFINGER brand stands for innovative, reliable and efficient lifting solutions that create measurable monetary value added for customers throughout the product lifecycles. The promise of the PALFINGER brand puts this into words succinctly: LIFETIME EXCELLENCE.
PALFINGER products are distinguished by their reduced weight and their lower need for energy and operating materials over the entire product lifecycle. The products are of top quality, reliable, durable and low in maintenance. Customers are increasingly paying attention to the total cost of ownership when making purchase decisions. A reduction of costs during the product utilization phase makes a product increasingly more attractive.
PRODUCTS FOR PEOPLE AND ENVIRONMENT
PALFINGER's product portfolio includes lifting solutions that also serve ecological and social purposes. Railway systems are used for low-emission rail transport, wind cranes are installed in wind energy plants, lifeboats are used in maritime emergency situations, timber cranes are used in forestry, for biomass handling or in the field of recycling, which is also the main area of application for hooklifts and skiploaders. PALFINGER access systems make it easier for wheelchair users to access means of public transport such as buses or trains and contribute to further eliminating barriers in public space.
Head of Product Management Loader Cranes EMEA
Interview with: Michael Völker
Along with maximization of safety during product use, minimization of power consumption, costs, and emissions throughout the entire product life cycle is essential. Research, development, and innovations contribute to the sustainability of the PALFINGER business model.
Michael Völker, Head of Product Management Loader Cranes EMEA, will now answer a few questions on the "Sustainable Products" sustainability area.
1. Please introduce yourself!
As Product Manager for loader cranes, I accompany our products throughout the entire product life cycle. From the initial concept and the introduction to the discontinuation of the product. One of the main tasks is to assess the market and customer requirements early on and incorporate them in product developments or changes. And it goes without saying that new systems and concepts should fit into a modular series, with few exceptions. The fact that there are usually more ideas than commercially and technically feasible solutions generates a very "interesting tension field" with customers, dealers, sales and development. In which I have been operating for more than 25 years.
2. What is your daily work routine like?
Unfortunately, it leans more toward operational activities than product strategies. Thanks to the high complexity of modern loading cranes, being a product expert automatically makes you the contact person for many departments. Our team is also intensively involved in the development of the new product configurator. A tool that will become the most important component for managing both present and future complexity.
3. What does sustainability mean to you? How far has your area developed in this respect in the past few years?
When it comes to sustainability, most people immediately think of concepts such as bio-oil, chromium VI-free coatings, and water-soluble paints. That is good and correct, because here too we occupy a pioneering role. But for me, sustainability relates above all to the use and the entire life cycle of the crane and not just to the production process. Naturally customers are more convinced by economic and application-based arguments than by purely ecological ones. The art lies in linking the two together. That sounds harder than it really is. Topics such as longevity, low-maintenance Technology and safety are very important sustainability topics from which customers clearly profit.
A good example of how the two aspects of customer value and environmental protection can be successfully combined is our "Best Preis Beweis Eco" project, which deals specifically with these topics. The question is: how do the features available on the loading crane save the customer time and money, and how can that also be expressed in environmental indicators? As an example, let's consider the light-weight construction for which the PALFINGER crane is esteemed. Less weight = more load capacity = fewer trips = less fuel consumption = lower costs = less CO2. A classic win-win situation for everyone involved, which can even be expressed in figures. Alternative drive concepts or hybrid solutions not only make this calculation truly interesting, but also broaden the range of application of the crane.
4. What is the outlook for the future? Where do we go from here?
Whereas a loading crane of the 90s of the last century (yes, I was there) was still defined by the terms "steel and oil". Now we are developing intelligent holistic concepts with a high level of comfort and safety functions. AOS and P-Fold or the HPSC stability system are milestones in the development of modern loading crane engineering, which have made the PALFINGER crane both a technology leader and a sustainability champion. Now we are rapidly heading in the "networking and digitalization" direction. And that will bring about the next big step in terms of use optimization. The customer will have access to more and more data. This will lead to significantly better route and operational planning, flexibly plannable maintenance and optimization of his equipment fleet. All topics that contribute in equal measure to sustainability. Good for us, our customers and the environment.
THE PROGRAM IS UPDATED ANNUALLY
SUSTAINABILITY PROGRAM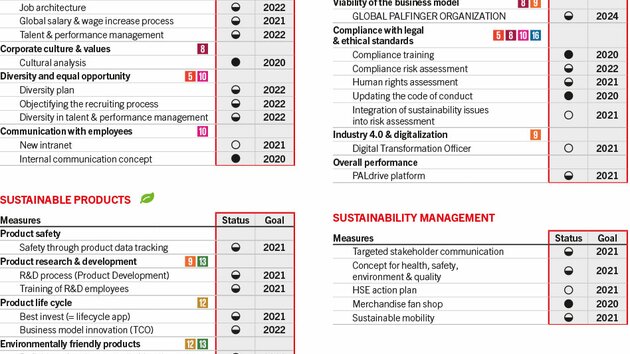 The PALFINGER sustainability program entails measures in the four sustainability fields. Workshops are held annually and during them the measures program is updated. This is approved by the Management Board. The purpose of these measures is to contribute to achieving the qualitative and quantitative goals set by PALFINGER and to support the five most relevant SDGs. In the field of Sustainable Products PALFINGER sets 9 measures.