Sustainability management
Sustainability management
Sustainability is integrated into PALFINGER's strategy and is an integral part of the management's commitment. In order to systematize the road towards a more sustainable future PALFINGER operates a professional sustainability management at Group level.
TRULY EMBRACING SUSTAINABILITY. Taking RESPONSIBILITY FOR TOMORROW.
Sustainability process: Step 1 
STAKEHOLDER MANAGEMENT
PALFINGER takes into account the consequences of its operations along the entire value creation chain and engages its stakeholders. PALFINGER defines its stakeholders as those legal entities and individuals who are in any way affected by its corporate activities and/or whose decisions have an impact on the Company. PALFINGER's approach to addressing individual interests and claims is as balanced as possible. Most recently in 2017, these stakeholders are regularly asked their views on the most important sustainability topics.
Sustainability process: Step 1
Materiality analysis
In order to assess which topics are most material with regard to sustainability, PALFINGER surveys the most important internal and external stakeholder groups at regular intervals in the form of a survey.
In 2017, PALFINGER conducted such a comprehensive materiality analysis. The material economic, ecological, social and ethical aspects were reviewed and updated. The results confirmed the 13 previous material topics in the four sustainability fields.
SUSTAINABILITY PROCESS: STEP 2
KEY FIGURES & TARGETS 
With the information from the materiality analysis, the Board of Management decides on sustainability targets.
In addition to the key figures and targets presented below, there are further employee and environmental targets. On the one hand, a 20 per cent share of non-Austrians in the Headquarters is to be achieved by 2022. On the other hand, the share of women in the top management level should correspond to the share in the total workforce. In the environmental area, In 2018, PALFINGER defined an additional target of reducing waste intensity by 30 percentage points by 2030 as compared to 2015. Another topic was added as a new long-term target in 2018: by 2022, 75 per cent of the Group's electricity is to be generated from renewable energy sources.
Sustainability process: Step 3 & 4 
Sustainability programme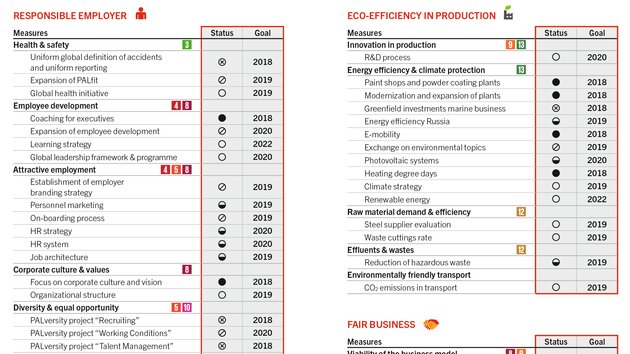 The PALFINGER sustainability programme entails measures of the fields Responsible employer, eco-efficiency in production, Sustainable products and Fair business. Workshops are held annually in these four sustainability fields and the measures programme is updated. This is approved by the Executive Board.
The purpose of these measures is to contribute to achieving the qualitative and quantitative goals set by PALFINGER and to support the five most relevant SDGs.
SUSTAINABLE VALUE CREATION CHAIN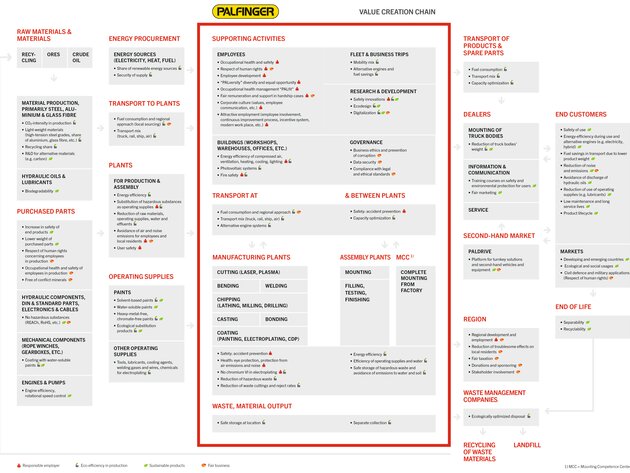 PALFINGER looks at value creation not only within the Group but also along the entire value creation chain. Value creation starts with raw materials and ends with product use.
Through its global orientation, PALFINGER can better utilize available capacities. The focus is on existing and future customers as well as on corporate responsibility.
PALFINGER's success and its flexibility are based on close cooperation with suppliers. As a matter of principle, all of PALFINGER's new suppliers have to undergo an initial audit. Environmental management and the PALFINGER Code of Conduct are essential criteria for suppliers.
The impact table shows an overview at which stage of the value creation chain – in the supply chain, within the company or at the product use – internal or external impacts occur and to which four PALFINGER sustainability fields they are allocated to.
Sustainable development goals
The Sustainable Development Goals (SDGs) have the goal of counteracting the most important problems of our time, promoting human well-being as well as protecting the environment. PALFINGER aims to contribute to sustainable development and this includes supporting and involving the SDGs in the business activity. PALFINGER prioritizes five SDGs – these are considered in the strategic orientation of PALFINGER.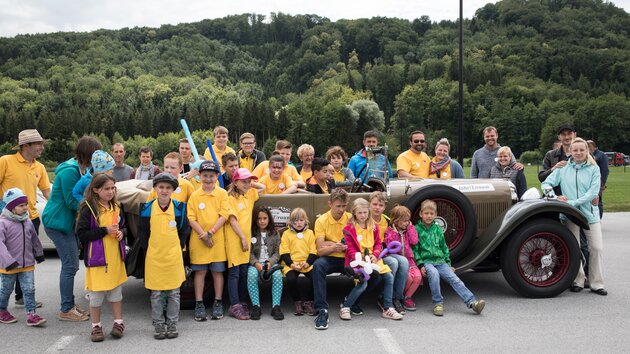 PALFINGER's social commitment is reflected in its active involvement and support. When it comes to the sponsoring of sports, culture and charities, PALFINGER attaches great importance to continuity and long-term commitment. PALFINGER wants its employees to take pride in its social commitment. No donations have been or will be made to political parties or other political organizations.
2017
Awards
Palfinger Produktionstechnik Bulgaria: Tenevo prize for "Social investments 2017"
Ratings
PALFINGER Epsilon: Quality seal for workplace health promotion
2015
Awards
Salzburg Business Prize 2015: category "Corporate responsibility"
Ratings
PALFINGER Köstendorf: Quality seal for workplace health promotion