For many years PALFINGER has been one of the world's leading manufacturers of innovative lifting solutions for use on commercial vehicles, ships and stationary equipment. As a multinational group headquartered in Bergheim, Austria, the PALFINGER Group, which has approx. 11,000 employees, generated total sales of approx. EUR 1,754 million in 2019.
The Group has manufacturing and assembly facilities in Europe, CIS, North and South America, as well as Asia. The pillars of its corporate strategy are innovation, internationalization, enhanced flexibility of products, services and processes, and PALFINGER 21st (the development of smart solutions and innovative, data-based business models). PALFINGER is regarded not only as the market leader, but also the technology leader, in the global market for hydraulic loader cranes. With a network of more than 5,000 sales and service centres located in over 130 countries across all continents, PALFINGER is always in proximity to its customers.
PALFINGER Products
PALFINGER product range LAND

Find here the point of departure for the product pages of the PALFINGER LAND products. Customers, prospective buyers and industry specialists will find details about models, classes and design variants of loader cranes, access platforms, truck mounted forklifts, hookloaders, railway systems, tail lifts etc.
PALFINGER product range MARINE

Find here the point of departure for the product pages of the MARINE products. Customers, prospective buyers and industry specialists will find details about models, classes and variants of marine cranes, winches and offshore equipment, offshore cranes, wind cranes, boats and davit systems.
BRAND ESSENCE
LIFETIME EXCELLENCE is our promise. Our central message. The core of our brand. For our customers, it means uncompromising top performance. The most economical, reliable and innovative lifting solutions in a global network of professional service partners – for the lifetime of the product. Professionals need product solutions with excellent lifecycle performance. High resale value, shorter downtime and durable components result in outstanding cost balance – decisive reasons for our customers to invest in PALFINGER products. They know that, along with excellent performance, they are getting the most cost-effective and economical product solutions in the long term.
Lifetime Excellence
Efficiency
PALFINGER products offer an outstanding price-performance ratio. High productivity, ease of use, a close-knit service network as well as high resale value more than pay for the investment in a PALFINGER product over the period of its use.
Lifetime Excellence
Innovation
PALFINGER is committed to leadership in innovation. In the past, trailblazing developments have revolutionised products and, in future, intelligent system solutions and unique functionality from PALFINGER will also shape the industry and new product development.
Lifetime Excellence
Reliability
Premium quality and strength of the products, durable components and outstanding workmanship, dependable worldwide service as well as the company's stability and strength make PALFINGER a reliable partner for professionals.
AWARDS
25. Oct 2019
Yet another award for our integrated Annual Report 2018
The Building Public Trust Award for the best Austrian integrated Annual Report goes to the PALFINGER AG. The award honours outstanding transparency and credibility as well as the integration of non-financial performance indicators.
09. Sep 2019
11 medals for our Integrated Annual Report 2018 at the 2019 International ARC Awards
Our report achieved 5 gold and 5 silver medals as well as 1 bronze medal in 11 categories such as "Chairman's Letter", "Cover", "Illustrations" and "Green/Environmentally Sound Annual Report" at the 2019 International ARC Awards.
27. Jun 2019
Award for competence in climate protection
According to the motto: "Together we are promoting mobility", the Federal Ministry for Sustainability and Tourism supports the reduction of CO2-emissions with the "klimaaktiv mobil" initiative.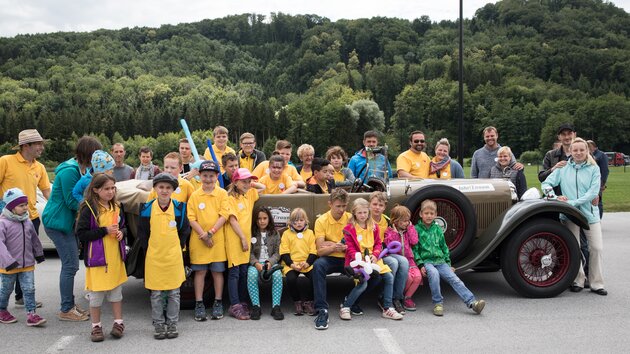 When it comes to the sponsoring of sports, culture and charities, PALFINGER attaches great importance to continuity and long-term commitment. To PALFINGER, commitment means that the successful deployment of funds is monitored. PALFINGER wants its employees to take pride in its social commitment. No donations have been or will be made to political parties, party-affiliated or other political organizations.