Lifting Sustainability
SHAPING THE FUTURE. LIVING RESPONSIBILITY.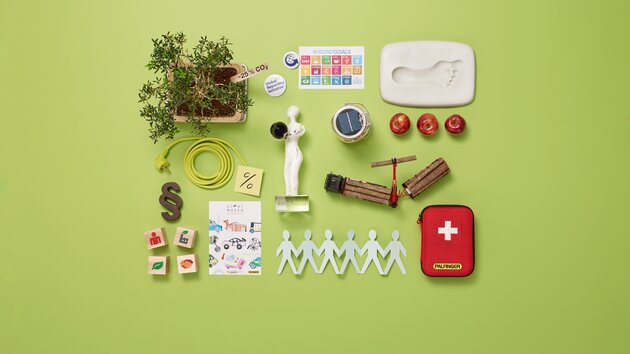 Embracing sustainability is the responsibility for tomorrow – as a responsible employer, PALFINGER produces sustainable products in an eco-efficient manner and stands for fair business. PALFINGER has been paying attention to the topic of sustainability in a structured way for 15 years. It is viewed as an interdisciplinary matter and is incorporated in all areas of the company. Furthermore, PALFINGER supports the UN Global Compact and the Sustainable Development Goals.
"
Sustainable thinking and acting significantly contribute to our economic success. This is why we take social, ecological and economic responsibility – along the entire value chain.
"
Sustainability stories
Current
Palfinger shows responsibility 
21. Mar 2019
Current status on employee goals
In the employee area we have set goals for lost hours, turnover, share of women and nationalities. In 2018 we achieved the last two. The current status on the goals as well as measures can be read in a blog article.
20. Mar 2019
Annual General Meeting as green meeting
For the second time, the Annual General Meeting took place in the PALFINGER World as a green meeting. The green and sustainable conditions include travel, accommodation, venue, catering and gift.
05. Mar 2019
Current status on environmental goals
In the environmental area we have set goals for energy, hazardous waste, CO2 emissions and renewable electricity. In 2018 we achieved the first two well. The current status on the goals as well as measures can be read in a blog article.
HISTORY
As a grown family business, PALFINGER has the understanding to take responsibility for its activities – in the economic, ecological and social area. In 2004, this understanding was first published in a sustainability report. In the following years, the four sustainability fields of PALFINGER continued to gain importance. PALFINGER assumes responsibility and has been actively committed to sustainability for 15 years. Social and ecological responsibility is seen as an essential success factor for the future.
PUBLICATIONS
Since 2013, PALFINGER reports on its material economic, environmental and social aspects in an Integrated Annual Report. It is written according to the international reporting standard of the Global Reporting Initiative (GRI Standards: "Core"). PALFINGER is committed to the 10 principles of the United Nations Global Compact and prepares an annual progress report. In addition, the sustainability programme is included in the Integrated Annual Report.