The Quiet Guest at the Family Dinner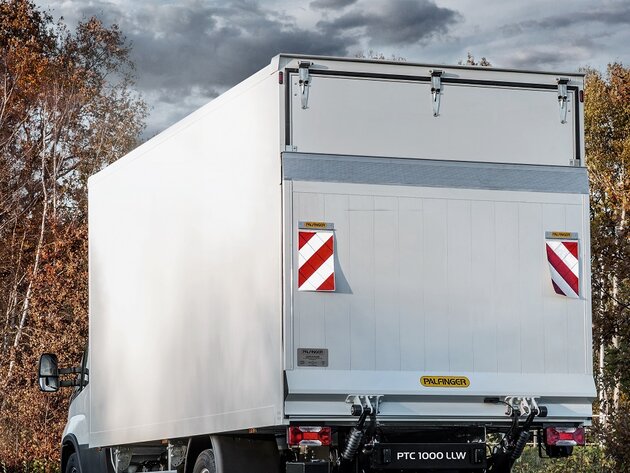 Product families are very similar to actual families. One member may grab all the attention at family meetings with spectacular stories about an exciting profession, rather fade into the background. The others' stories are, however, often just as spectacular. One just needs to listen…

A New Family Member
PALFINGER enjoys worldwide renown as the global market leader for loader cranes, but we also offer a broad, innovative portfolio of other lifting solutions. It is time to introduce you to a new member of our tail lift family, the PTC 1000 LLW tail lift for light commercial vehicles.
PALFINGER Tail Lifts are known to be highly reliable products that meet the strictest safety standards. They are highly adaptable due to customized software solutions and come with a comprehensive 24/7 service package. We continuously meet these high expectations with every new product we add to our portfolio.
When developing a new tail lift, PALFINGER always pays close attention to the needs of end-users and body builders alike. Operators want a tail lift to be reliable, robust, and lightweight, while body builders demand solutions that are easy to install and minimize fitting costs. The new PTC 1000 LLW ticks both boxes.
As the lightest 1,000 kg tail lift for the 5 to 7.99 t segment on the market, it sets a new industry benchmark. Its weight means it is the perfect option for anyone looking to maximize payloads while reducing their carbon footprint due to lower fuel consumption. Furthermore, customized mounting brackets optimize fitting times while ensuring that the PTC 1000 LLW makes no compromises in terms of stability and robustness.

Quiet Helpers
Tail lifts may not enjoy the spotlight as much as other products in our portfolio, but at the latest the COVID crisis has shown that deliveries in private, retail, and even health-related environments are essential for upholding global supply chains. Tail lifts are silent contributors to these efforts – every minute, every hour, every day.
However, the recent surge in delivery volumes goes hand-in-hand with increased responsibility. The focus in the truck industry is shifting to emissions reduction, weight saving, and fleet electrification. PALFINGER is ready to facilitate this transition to sustainability and increased efficiency.
The moral of the story: when large family gatherings are possible once more, it could be worth listening to the stories the quieter guests at the table have to tell.