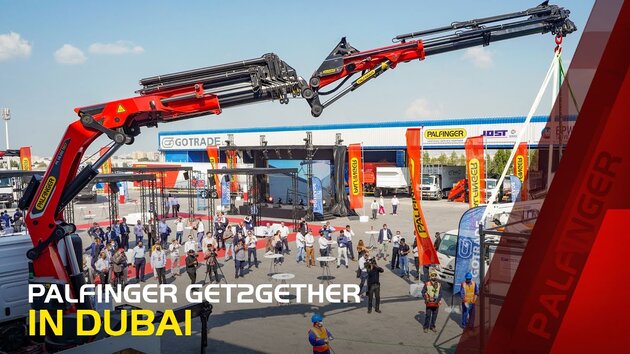 Enthusiasm. That is what remains after two days of the PALFINGER get2gether in Dubai. Enthusiastic customers and partners, enthusiastic employees and shareholders, and a very satisfied Andreas Klauser. "We met guests who operate at a highly professional level and are extremely interested in our solutions. This was the best basis for such in-depth and promising discussions," he said in summing up the trip to EXPO 2020.
"Connecting Minds. Creating Future" is the tagline of the world exhibition (postponed by one year) in the economic metropolis on the Arabian Gulf. For PALFINGER, it offered a unique opportunity to present itself as a future-oriented company to partners and customers from the Middle East and Africa on November 9 and 10. And together with the local trading partner Gotrade in Dubai, to present the PALFINGER product portfolio in action as part of a dynamic show.
Innovations and Full Solutions
But that was the show-stopping finale. The get2gether started much earlier, with weeks of intensive and precise preparations that left nothing to chance. Selected dealerships from the region were invited to help out and, in return, bring up to two customers. It was therefore an exclusive circle that came together in Dubai at the Austrian pavilion at the world exhibition.
It was only natural that the EXPO was chosen to provide the setting for this meeting. Here, where everything revolves around working together and the future, Andreas Klauser, Gerhard Sturm and Albrecht Karlusch presented PALFINGER as a leading innovative global technology company. It was all about PALFINGER as a global company, how product and solution become a holistic offering, a full solution - and it was about how innovation happens at PALFINGER. A topic that was impressively demonstrated using STRUCINSPECT as an example.

Networking and Commitment
This provided plenty to talk about - and the guests found PALFINGER discussion partners experienced on every topic of interest. "The focus was always on the question of which challenges are being faced by our partners and customers," explains Andreas Klauser. "We were able to respond to these very precisely in each case and get across our message that PALFINGER solves problems," he continues. As planned, the get2gether was an intensive and lively networking event. And it all took place in front of Dubai's futuristic skyline.
The product demonstration on day two saw action replace words. On the premises of Gotrade, the local trading partner, experienced crane drivers and operators demonstrated to 150 invited guests what PALFINGER can do: precision power, innovation and user-friendliness. An impressive performance that was met with great enthusiasm. "First-hand experience is still one of our strongest arguments," says a pleased Andreas Klauser, noting, "I am very confident that we will be able to further expand our business in the Middle East and Africa."