Tailord lifts by PALFINGER
Individual software solutions for tail lifts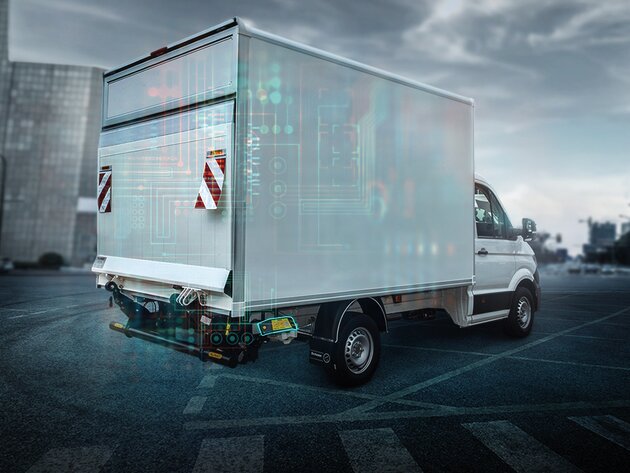 Open, lower, lift, close. In terms of public perception, tail lifts are everyday helpers within the commercial cycle. Without them, efficient freight logistics would not be possible, but they are, at first glance, not as spectacular as a large loader crane or a mighty hookloader. In its capacity as a driver of innovation, PALFINGER sees matters differently. Our individual software solutions transform these everyday heroes into more efficient and safer high-tech tools that make life easier for our customers.

EVERDAY HEROES
We see tail lifts every day: in front of the supermarket, for example, or when we receive large parcels. Yet we never take a closer look. It is, after all, merely routine technology for the safe loading and unloading of all kinds of vehicles. PALFINGER naturally has a different perspective. We see customers who have very specific demands on tail lifts. We see operators who want safer and faster workflows. In short: we see a high-tech product with enormous development potential.
INDIVIDUALIZATION
PALFINGER is one of very few tail lift suppliers capable of offering individual software solutions, specially adapted to the daily processes of the respective customers. This is partly due to our more powerful circuit boards, but also to the fact that PALFINGER maintains its own department that is entirely devoted to the interaction of control, sensor technology, and software. Incidentally, it is not exclusively a matter of speed, but also of safety, efficiency, and the implementation of different regional standards. PALFINGER imposes virtually no limits on its customers in this respect – every function or movement is just one push of a button away.

FASTER, SAFER, MORE COMPLEX
PALFINGER has implemented more than 200 individual software solutions for customers to date, ranging from simple to complex. The "QuickDown" program, for example, saves 30% time compared to conventional tail lifts. Our "SmoothTilting" program, on the other hand, enables operators to lower particularly sensitive goods gently and precisely. The "SelfLock" function allows drivers to lock the respective tail lift via radio remote control. More complex programs, some of which are linked to GPS and cloud applications, prevent the tail lift from opening outside a defined geographical area, or measure the weight of the load in real time.

SIMPLE INSTALLATION
The installation of these software solutions is very simple. The program requested by the customer can either be installed at the factory before the delivery of a new tail lift or retrofitted by a certified service partner. Remote uploading by means of PALFINGER's "e-link" diagnostic platform is also possible. Here too, as always, PALFINGER focuses exclusively on the wishes of its customers.