Vision 2030: Shaping the Future Proactively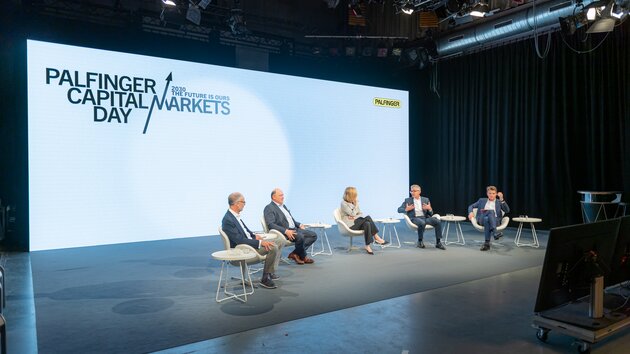 The future, says simulation researcher Niki Popper, can be modeled. But, he adds, many decisions - taken in politics or by management, for example - influence the result. So for a model of the future to be meaningful, it is not enough to simulate individual processes and tasks within a company. Instead, there needs to be an overall simulation that takes all areas into account.
That is why an overall strategy is needed - like PALFINGER AG's Vision 2030. On November 5, CEO Andreas Klauser, CFO Felix Strohbichler and COO Martin Zehnder outlined the future of the company to around 60 guests at the Capital Markets Day with the tagline "2030 - The Future is Ours".
Strategic Pillars
In his opening speech, CEO Andreas Klauser noted that since its founding 90 years ago, the company has been characterized by a pioneering spirit and entrepreneurial thinking. It is these two qualities that matter most to PALFINGER for finding the best answers to the megatrends of globalization, digitalization, demography, and climate change. "The focus is on our customers and their needs," said Klauser. "Our aim is to proactively shape change, set industry standards and every day create added value together with our partners and customers." That is why PALFINGER's vision "Lifting Value - Creating Momentum" focuses on the direct benefits for customers. Klauser went on to say that PALFINGER's Strategy 2030 is derived from this. This is based on the strategic pillars "Go for Solutions" and "Go Digital". The first pillar describes PALFINGER evolving from a provider of products to a leading solutions provider, the second pillar focuses on additional growth opportunities using digital business models.
"2030 sees PALFINGER as an innovative technology company combine the very latest hardware with the most advanced software from a single source. Our solutions will be smart, networked, environmentally friendly and even more powerful," said Klauser, looking to the future.

Clear Financial Targets
CFO Felix Strohbichler took up this challenge and presented the medium and long-term targets. Based on the Vision and Strategy 2030, "we have increased the medium-term financial targets in 2024: By then, we aim to achieve revenue of EUR 2.3 billion through organic growth, with an EBIT margin of ten percent and ROCE of twelve percent." Strohbichler then set a revenue target for 2030 of "EUR 3.0 billion with a targeted market capitalization of also EUR 3.0 billion".

Partnerships with a Future
With this strategy, PALFINGER is opening a new chapter, added COO Martin Zehnder. "For a transformation of this magnitude, a leading technology company like PALFINGER also needs a strong network of partners, especially in technology and in the supply chain," he emphasized during his presentation. Andreas Hille, Philipp Smole, Gerhard Sturm and Harald Hauser then explained how smart solutions, digital business models, the digital customer journey and proactive management of supply chains contribute to the effective implementation of operations.
Against this background, a panel consisting of Herbert Eibensteiner, CEO voestalpine, Heimo Scheuch, CEO Wienerberger AG, Gerhard Krammer, member of the Management Board of STRABAG SE and Andreas Klauser discussed opportunities, possibilities and trends for the coming years. The panelists were optimistic that they would be able to successfully handle these challenges over the next few years. Not only would they be able to handle them, but also use them actively to open up new opportunities. The future, the panel said, is the sum of many decisions. The more active you are in making them, the better.